Hethersett Academy Marks Exam Seasons Kicking Off
Back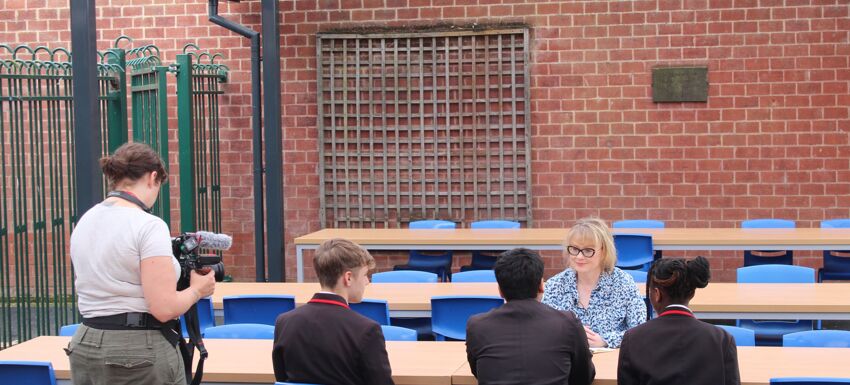 May 16th 2022
With public exams getting under way for the first time since 2019, 71% of Year 11 students agree that it's important to "get back to normal" with exams.
Like schools across the country, Year 11s in Hethersett Academy are today starting their GCSEs, with Computer Science the first exam, followed by Biology tomorrow.
This year's exams are the first to take place since 2019, as during the pandemic GCSE, A Level and vocational qualifications were all determined by teacher assessment rather than students sitting in an exam hall. In a recent survey of all Year 11 students at Hethersett, 82% said they agreed or strongly agreed that exams were the fairest way to test what they know and understand.
To support students to prepare for this important milestone, Hethersett Academy has gone above and beyond to ensure students are ready for their exams. Inspiration Trust's secondary schools have, on average, an additional 520 hours of schooling throughout their time from Year 7 – Year 11 than a typical secondary school.
For Year 11s, the culmination of this additional time in school involves an extra five weeks learning through a combination of Saturday revision sessions, holiday sessions and additional lessons after the formal school day. In total this amounts to an additional 26 weeks of extra schooling from 11 – 16.
Inspiration Trust has taken full advantage of the additional funding available through the DfE's catch-up funding, with expenditure of £565,000 on additional tutoring and summer school for students in recognition of the disruption to their learning due to the pandemic.
Gareth Stevens, Chief Executive of Inspiration Trust said:

"At all Inspiration's schools our belief is that getting back to normal with exams is really important for everyone. We are really excited about it too. Exams are the fairest way of students being able to show what they know and can do, they are an important motivator, they are a rite of passage and also a gateway either into work, apprenticeships or university".

"Across the Trust we have 1,200 students taking between 8-11 GCSEs each, and another 450 doing A-Levels. All our students at Hethersett and our other schools have worked so hard, and we are all incredibly proud of the resilience and determination they have shown throughout this period."
Jane Diver, Principal of Hethersett Academy said:

"The overwhelming feeling here today is one of positivity and relief to get back to even more normality. The majority of our year 11s really want exams this summer. So there is a really positive feel around the school - I could even describe it as excitement really.

"Staff too have worked tirelessly during the pandemic and want the children they are working with to get the results they deserve and whilst grades being decided by teacher assessment were an understandable solution during the pandemic, now that we can get back to normality we absolutely should do so. It's their time to shine."
Sam Davy, Year 11, taking Biology tomorrow said:

"Everyone is quite excited - we've been working so hard since Year 11 and we want the chance to show what we have achieved. The Advance Information has really helped us focus our revision and has helped reduce stress and nerves. Exams really help level the playing field whilst also testing what we know - it's so much better than teacher assessment deciding what grades we get."
Grace Hawkins, Year 11 all said:

"I think it's really good that exams are going ahead - it's our chance to shine and show off. Taking exams means that it's just down to you - and everyone is doing the same test."