Hethersett Academy Celebrates Best Ever GCSE Success
Back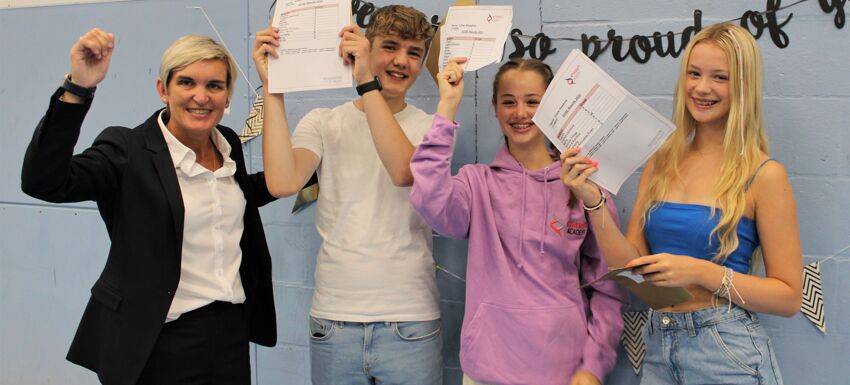 August 25th 2022
Hethersett Academy, an Ofsted 'Outstanding' secondary school based south of Norwich, is celebrating its fantastic GCSE results today with 90% 9-4 grades in Maths and English, 77% 9-5 grades in Maths and English and 1 in 3 grades being 9-7. There was an impressive 10 pupils achieving straight nines! The average 9-4 grades across all subjects is 92%, and Attainment 8 score of 59.8!
The school, which is known for its ongoing success is consistently one of the top-performing schools in Norfolk, producing students that achieve highly and go on to do great things - this year is no exception.
Jane Diver, Principal at Hethersett Academy, said:
"Congratulations to our Year 11 students who have worked incredibly hard to achieve their results, we are very proud. On behalf of myself and the team at Hethersett Academy, we wish them all the very best for the future."
The school has also seen an impressive increase in the percentage of 9-5 grades vs. 2019 with Sciences up from 48% to 78%, History up from 50% to 80.8%, Geography from 63.9% to 96.4%, Food and Nutrition from 57% to 71.2% and Art from 29% to 81.6%.
Standout success was also seen in English, Computing, Geography, History, Music, Spanish and Textiles, where 49.7%, 50%, 66.7%, 54.8%, 55.6%, 54% and 55% of grades were 9-7 respectively.
Sam Davey achieved ten Grade 9's and is going on to study History, Geography and Maths A-Level at Wymondham College, he said:
"I had a lot of support and staff were always there when I needed them, whether that be to ask questions or advice. They made sure that we were prepared and with the advanced information for the exams they were able to provide the best support to us. We had two sets of mocks so knew what we were going into for the real thing, our teachers made sure that we could focus on what we needed to know for the exam as we felt less pressure on us about the exam situation."
Joseph Cullumbine achieved nine Grade 9's and is going on to study Maths, Further Maths, Physics and Computer Science A-Level at Sir Isaac Newton Sixth Form, he said:
"I'm really happy with how I did and even did better than I expected. I enjoyed my time at Hethersett and the teachers were really supportive to prepare us for the GCSEs. They made sure we knew everything we needed to. The exams were hard but I think I coped with them well and as best as I could. The next steps from here for me will be attending Sir Isaac Newton Sixth Form this September, and in the future I have hopes to go to University to study Computer Science"

Delivering an education that inspires a life-long love of learning, students from Hethersett Academy are all now in an excellent position to progress their education, many choosing to continue their learning in Inspiration Trust's brilliant sixth forms, Sir Isaac Newton Sixth Form and Jane Austen College, with many students already thinking ahead to ensure they secure a place at their first-choice university.