Award-Winning Alumni, Theatre Producer - Richard Jordan visits Hethersett Academy
Back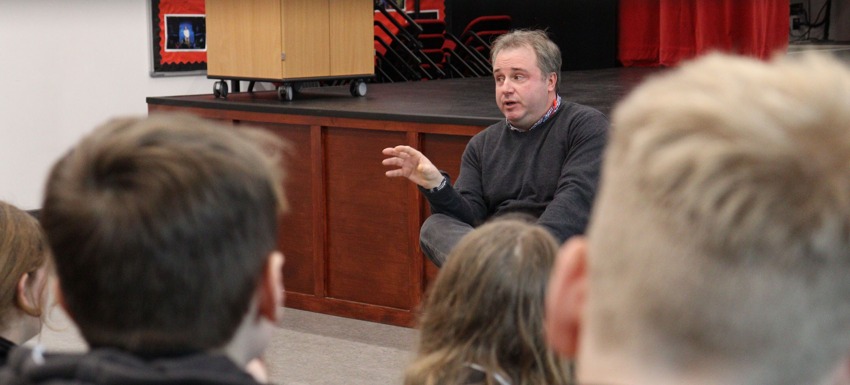 January 9th 2023
On Friday 6th January, multi-award-winning producer Richard Jordan returned to his Norfolk roots, to speak to students at Hethersett Academy, offering advice to those looking to pursue a career in the arts. During this visit to Hethersett Academy, the school which he once attended himself, Richard Jordan spoke about his phenomenal career in theatre which has seen him developing more than 260 incredible productions worldwide including Roadkill, Othello: The Remix, and Dickens' Women.
Born and raised in Norfolk, Richard attended Hethersett Academy (then Hethersett High School), and discovered his love of theatre watching performances at Norwich Theatre Royal and Norwich Arts Centre before going on to forge a very successful career in theatre. He began his career at the age of 16 as a stagehand on the West End musical Cats and subsequently worked in stage and theatre management. In 1998 he established his own London-based production company, Richard Jordan Productions, and has won over 60 awards as a producer, including an Olivier Award, a TONY Award, an EMMY Award, and the 2017 Outstanding Contribution to the Arts Award at the Norfolk Arts Award in association with the Eastern Daily Press.

During Richard's visit to Hethersett Academy, he held a masterclass for students studying drama, as well as the pupils who are currently rehearsing for their upcoming performance of Sister Act on Wednesday 15th, Thursday 16th and Friday 17th March.

The visit began with Richard giving a talk to the students about his background, education and impressive subsequent career. The students were then given the opportunity to ask questions, and those that are involved in 'Sister Act' in March were then given the opportunity to perform songs and scenes to receive Richard's feedback.

Year 10 student, Daisy Tovell said:
"I have loved meeting Richard and was surprised that he is from Norfolk. It goes to show that it's possible for any of us, you just have to work hard and be passionate about what you want to do."
Year 10 student, Isabelle Russell said:
"This afternoon has been amazing! I love theatre and it's my dream to become an actor. Meeting Richard has inspired me and he has given me some great advice."
Richard said:
"31 years ago, I was a pupil at Hethersett. Back then, drama was not even a GCSE subject you could study. Working in theatre or the creative industries was not seen as a serious job, and my ambitions to do so were not encouraged by my teachers as being a viable career choice. It was at the Norwich Theatre Royal where I made my discovery of theatre and realisation that pursuing such a career in this industry was possible. Three decades later, it has therefore been heart-warming visiting my old school and seeing how much has changed; to engage with its talented students, watch rehearsals in its new theatre, and meet the dedicated creative arts teaching team who are committed to encouraging and delivering this subject and its opportunities to their students. I have spent my career in theatre encouraging young people - especially from the county I grew up in - about the many diverse, multi-faceted, and rewarding roles that a career in the arts industry can offer to anyone from every background. The return journey to my old school leaves me with good reason to feel hopeful."
The arts are integral to the curriculum delivered at Hethersett Academy, with all learners having opportunities to study Art & Design, Drama, and Music as well as Photography, Graphics, Digital Media and Textiles. Embracing opportunities is one of our four explicitly taught Core Values, and as a result, the Academy delivers a diverse enrichment programme of concerts, clubs, drama productions, theatre trips and workshops. Hethersett Academy also provides a full range of individual music tuition, ensemble rehearsals and Trinity drama examinations; and, backed by the Inspiration Trust, offers fully funded music scholarship places to Year 7 applicants each year.
Find out more about Hethersett Academy's performance of Sister Act and book tickets.