West End Performer and Star of Sister Act The Musical, Lizzie Bea Visits Hethersett Academy's Theatre Students
Back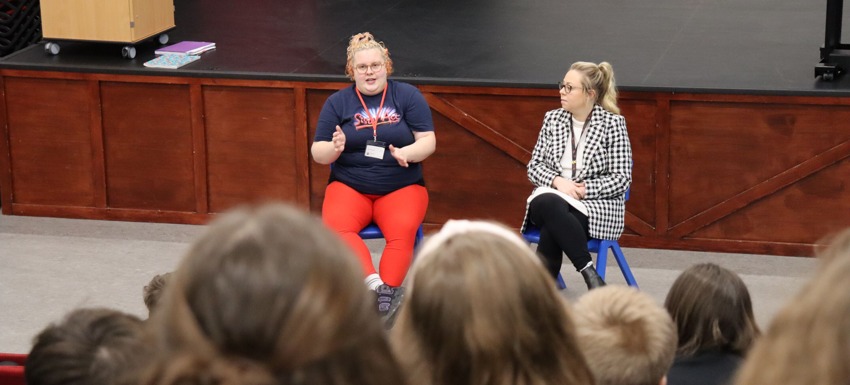 January 16th 2023
On Thursday 12th January, professional stage and West End performer, Lizzie Bea visited Hethersett Academy's production cast for Sister Act The Musical, to speak to them about her incredible career and to offer advice about how to pursue a career in the arts. Lizzie is currently touring the UK in Sister Act The Musical, and has previously performed in Heathers and Kinky Boots. She also starred in Hairspray on the West End in 2021, as the leading lady, Tracy Turnblad.
Lizzie trained at the National Youth Theatre And National Youth Music Theatre and also attended the National Student Drama Festival. Her impressive career stretches over 10 years and includes stage performances in Nick Evans' Billy Elliot, The 3 Little Pigs, Fat Friends The Musical and Becoming Nancy at the Alliance Theatre.
On the evening of Wednesday 11th January, the students watched Lizzie perform as Sister Mary Robert in Sister Act The Musical at Norwich Theatre Royal. The following day, Lizzie attended Hethersett Academy where the students were able to ask her questions about her education and spectacular career, as well as ask for tips and tricks in preparation for their performance of Sister Act The Musical on Wednesday 15th, Thursday 16th and Friday 17th March.
This was a fantastic opportunity for the students of Hethersett Academy, who alongside being able to go and watch the show were able to perform several musical numbers in front of Lizzie to gain her valuable insight, she then offered advice on stage direction and character development.
Bethany Pettitt, playing Mother Superior in Hethersett Academy's version of Sister Act said:
"We've been rehearsing Sister Act for ages and seeing it in person has given us a new perspective and love for the performance. It was amazing to meet Lizzie and ask her questions, her insight makes me more inclined to go into theatre in the future."
Niamh Brighouse, playing Curtis in Hethersett Academy's version of Sister Act said:
"It was really cool to meet someone who's not only doing the show that we're doing but is obviously passionate and loves their job. It's really encouraging to see what we're going to be performing in a couple of months, performed so brilliantly on the stage. It makes you think 'actually we can do this and it's going to be amazing'. Lizzie's so confident and she's really encouraging to young people who want to get involved in theatre."
Lizzie Bea, West End Performer said:
"I had such a brilliant time teaching at Hethersett Academy. Seeing the students feel so inspired by Sister Act was wonderful and I feel very proud to be part of a show that is encouraging young people to participate in the arts. I hope that the school production goes wonderfully."
The arts are integral to the curriculum delivered at Hethersett Academy, with all learners having opportunities to study Art & Design, Drama, and Music as well as Photography, Graphics, Digital Media and Textiles. Embracing opportunities is one of our four explicitly taught Core Values, and as a result, the Academy delivers a diverse enrichment programme of concerts, clubs, drama productions, theatre trips and workshops. Hethersett Academy also provides a full range of individual music tuition, ensemble rehearsals and Trinity drama examinations; and, backed by the Inspiration Trust, offers fully funded music scholarship places to Year 7 applicants each year.
Find out more about Hethersett Academy's performance of Sister Act and book tickets.