Award-Winning D&T Department Wins Rolls-Royce Science and Technology Prize
Back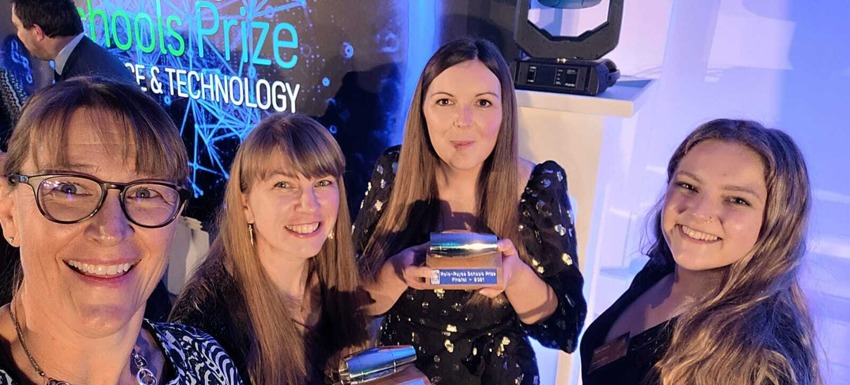 December 14th 2022
On Thursday 8th December, Hethersett Academy's Design and Technology team were awarded the Rolls-Royce Employees Choice Award 2021.
In 2020, Hethersett Academy's D&T department entered the Rolls-Royce Schools Prize for Science and Technology. The project that they submitted was an exploration in plastics, asking the question "Could we recycle 3D printing filament which had already been printed?".
The staff and students worked together to build an extruder which could convert the plastic into new filament (a long string of plastic). This would then be tested to see if it could be reused in a 3D printer. Currently, most recycled filament has some percentage of new plastic and the team wanted to see if they could avoid this. Out of hundreds of applications, the school became one of only eight national finalists and as a result, were matched with a mentor, Chris Tague, Chief of Engineering Manufacture at Rolls-Royce who worked on the project with Hethersett Academy's Year 10 students.
On Thursday 8th December, the D&T team travelled to the Rolls-Royce headquarters, based in Derby for a day at the Learning and Development Centre. A highlight was visiting the rotatives facility which manufactures all critical rotating components in the gas turbine engine business across Civil, Defence, Business Aviation, Energy and Marine sectors.
In the evening they attended the awards ceremony, and the team were able to meet with CEO Warren East, the Industry and Science Minister, Nusrat Ghani, and CEO of STEM Ambassadors Yvonne Baker, who were keen to hear how Design and Technology in the East of England is supporting opportunities for children in the area.
The team were then announced as the winners of the 'Rolls-Royce Employers Choice Award', nominated by the Rolls-Royce employees. The team was praised for embedding sustainability into the lives of the children they teach. Alongside the award, the department was awarded £2,500 which they hope to use to strengthen engineering experiences for the pupils at Hethersett Academy.
Kate Finlay, Head of D&T at Hethersett Academy said:
"I am very proud of all the team at Hethersett Academy and have loved the journey that we have gone on with our pupils. If anyone reading this works with pupils in schools, please apply. It is a remarkable competition and opens up a wealth of opportunities for your pupils."
In October, Hethersett Academy's D&T department was also recognised for their outstanding contribution to the industry by The Design and Technology Association, and awarded 'The Autodesk Excellence Award'.
Principal of Hethersett Academy, Jane Diver said:
"It's incredible what our D&T department has achieved this year! We're so lucky to have a team of passionate and professional people that nurture our student's interest in design and technology and inspire them to pursue careers in the industry."